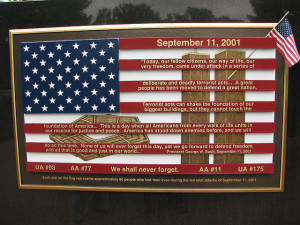 A day that I will never forget as long as I live, a day that as marked by stunned disbelief, roaring anger and then a realization that the country I grew up in, the one I was so firmly entrenched in was changed forever.
I remember looking at my nearly 1 year old daughter and shedding more tears as I realized she will never know the peace and freedoms that I literally took for granted.  Twelve years later, I still remember, I still hurt and I still get very emotional if I let my raw feelings from deep inside surface.
I know of a brave family who bore the loss of their son and their brother as he perished going back into the one of the towers to save more people…after all, he was a NYC firefighter and that is what they did in time of crisis like this.  So many brave people died, so many innocents lost their lives in the air and on the ground and so many people in our country were deeply affected.
But,  our country rose to her feet, staggered and stood tall once again.  We remained united despite all the political rancor and tough decisions we had to make.  We did not succumb to the cowardly acts or the ideologies of hate, we have remained one country with one set of rules and we are still the melting pot of the world.
Yes, I am sad and I hurt in my own personal way for many, many reasons, but I have also been healed in knowing that so much good has come out of so much evil.  People like us helped others in need through donations of time, money and talents.  We still support many 9/11 related causes and we tell our children what happened that terrible day so they can continue the support when our time has passed.
May our belief in Jesus carry us through the tough times, heal the pain of loss and help us remain true to our core beliefs that forged this great country.  The word united never meant more to me than the months and years following 9/11 and, today, I am proud to be a citizen of the United States of America.
Help make this world a better place by doing kind things, by following the teachings of Jesus and by not becoming like those that attacked us and defeating all our country has ever stood for.
Nope, that's not the American way, is it??  God Bless America!
By: Jerry Burns