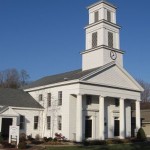 Today at the Congregational Church of Burlington, 42 voting members and a handful of interested observers reviewed the 2014 Budget as presented by the Treasurer and Business Committee.
Being the 2nd of two meetings, this flow was especially quick as we reviewed the Congregational decision to not sell land, not to layoff any part-time staff and not to make cuts or cost-shifts to the Pastor's compensation package.
The discussion focused on the fact the Congregation was voting in a faith-based budget with the same deficit in play as what we finished with in 2013.  The Business Committee & Treasurer recommendation were discussed by showing how 64 pledging members across three distinct giving buckets could make increases to balance the budget.
The good news is we have received 7 more pledges since the January 5th meeting and we have shaved $7k off our projected budget deficit in 2014!  We are so close to balancing if we can find a way to add to our current pledging…and we know that many have already done just that!
Discussion also touched base on the need for all of us to be stewards and Church Growth advocates as we move about in our daily lives.  Invite friends, family and those  you feel could use the love of our Church because it's up to each and every one of us to grow our membership…we have a very good thing going here, so let's spread the news of all we do and just how good Rev. Taylor is each and every Sunday!
Bill Butler motioned to approve the budget as presented with a second from Paul Cornish.  The vote was 41 In Favor, 1 Opposed and no Abstentions; The Motion Passed.
Thank you to all who attended and let's hope we can meet our pledging goal in 2014 so we can seriously entertain a Fellowship Hall or Church Move in our near future.  The meeting will be posted to YouTube sometime during the week and will be announced in this News blog.
Peace & Love!