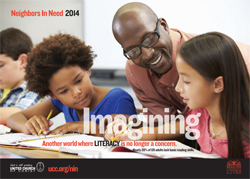 The Neighbors in Need annual offering on October 5th, 2014 supports the UCC's ministries of justice and compassion throughout the United States, including the Council for American Indian Ministries, justice and advocacy efforts, and direct service projects funded by UCC's Justice and Witness Ministries.
Please read the bulletin inserts over the next 4 weeks, imagining a world where Literacy is no longer a concern.
Neighbors In Need helps make that world possible and it needs your support.
More information is available at www.ucc.org/nin