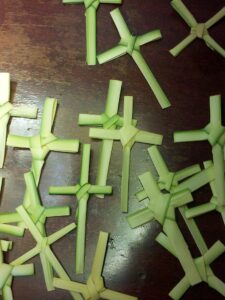 With the pandemic still gripping our nation and our world, many people are working to try and keep our Spiritual Community bright with God's Light!
Today, we are rolling out our first Digital Service that you can enjoy and, hopefully, feel why Holy Week is so important to our Christian Faith.
Please feel free to leave comments and I am sure Rev. Taylor, Jackie Harris-Stone, Music Director, and others involved will be glad to "hear" from you and to know that these are helping as intended!
Please enjoy today's Palm Sunday Digital Service for Sunday, April 5, 2020!
Peace & Love, Brothers & Sisters
Opening Hymn
All Glory, Laud and Honor (Processional)
Opening Prayer
Prayer of Confession
Scripture Readings
Follow along with Rev. Taylor as he brings us the Palm Sunday Opening Prayer, Prayer of Confession and our two readings from Isaiah and Matthew. If you prefer, find the words below so you can follow along to the video.
Opening Prayer Text
Humble and riding on a donkey,
we greet you;
Acclaimed by crowds and caroled by children,
we cheer you;
moving from the peace of the countryside to the corridors of power,
We salute you: Christ our Lord.
You are giving the beast of burden
a new dignity;
you are giving majesty
a new face;
you are giving those who long for redemption
A new song to sing.
With them, with heart and voice, we shout:
Hosanna! Blessed is the one who comes in the name of the Lord!
Prayer of Confession
O Lord, who on this day entered the rebellious city that later rejected you:
we confess that our wills are as rebellious as Jerusalem's,
that our faith is often more show than substance,
that our hearts are in need of cleansing.
Have mercy on us, son of David, Savior of our lives.
Help us to lay at your feet
all that we have and all that we are, trusting you
to forgive what is sinful,
to heal what is broken,
to welcome our praises,
and to receive us as your own.
First Reading from Isaiah 53:1-3
Gospel Lesson from Matthew 21:1-9
Second Hymn
I will Enter His Gates
Palm Sunday Sermon – Rev. Taylor
Click Here for Sermon Text (it will open in new window/tab)
Closing Hymn
Hosanna, Loud Hosanna
Go in Peace to Love
and Serve the Lord!