How to Join Service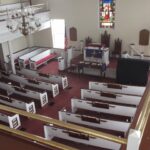 To join our Digital Service hosted on Zoom.us, please Click to Register here.
If you have any technical issues getting into or during service, you can call Jerry Burns at (860) 866-8870 for technical assistance.
Can't connect via a computer, tablet or smartphone? Don't worry, we can share a dial-in number (long-distance) or have you use the "CCB Virtual Ride to Church" program!
Start by letting our Music Director, Jackie Harris-Stone, know you need to use this service by emailing her or calling (860) 558-7803.
We'll work to line up a volunteer you can call who can put the phone near their computer speaker so you can hear and participate.
Let Jackie know ASAP so we can find volunteers who will have open phone lines to assist.
Happy Mother's Day!
Deacon's Welcome
George Fetzer, Opening Deacon
Bell Ringing
CCB Virtual Bell Choir
Video to be shared with Congregation
Opening Music
Jackie-Harris Stone, Music Director
You are my Hiding Place
You are my hiding place,
You always fill my heart
With songs of deliverance
Whenever I am afraid
I will trust in You
I will trust in You
Let the weak say I am strong
In the strength of the Lord
(Repeat 3x's)
(Final time)
I will trust in you
Call to Worship – Responsorial
Rev. Wendell Taylor
Rev. Taylor: God is in our midst, forming us to be God's own people.
Worshipers: Though the way may be difficult, God will be with us.
Rev. Taylor: We need not fear.
Worshipers: In the Lord we will take our refuge, for God is our strength.
Rev. Taylor: Come to the Lord who will surround you with God's own righteousness.
Worshipers: Lord, open our hearts and our spirits so that we may faithfully follow you. AMEN.
Opening Prayer
Rev. Wendell Taylor
Source of all creation, maker of the world and everything in it,
you are never far from each one of us.
We come into your house seeking you,
O giver of life and breath.
Reveal yourself to us; dwell with us; and abide in us.
We live because of you. We hope because of you.
In the name of Jesus Christ in whom we live,
and the Spirit of Truth who abides in us, AMEN.
Prayer of Confession
Rev. Wendell Taylor & Worshipers
Let's all say this together:
Maker and giver of all, forgive us when we are too preoccupied to notice your presence in our lives:
when we walk through this world and fail to see the wonder of you upholding our lives and all creation;
when we walk through our lives and fail to see you abiding with, within, and around us;
when we walk through holy moments and fail to savor your presence,
instead feeling abandoned in the vast sweep of life as each day rushes at us with its demands.
Open our eyes to your presence, God of love, that we may lean on you — for you uphold all of creation in tenderness and power. AMEN.
Words of Assurance
When Jesus left the disciples, he gave us a promise:
"I will not leave you orphaned!"
For we, his disciples, live in him and he in us —
the presence of God within and around all.
What a promise!
Take courage!
Take comfort!
Blessed be God!
The Lord's Prayer
Our Father, who art in heaven,
hallowed be thy name;
thy kingdom come;
thy will be done;
on earth as it is in heaven.
Give us this day our daily bread.
And forgive us our trespasses,
as we forgive those who trespass against us.
And lead us not into temptation;
but deliver us from evil.
For thine is the kingdom,
the power and the glory,
for ever and ever. AMEN.
Joys and Concerns from the Congregation
Rev. Wendell Taylor & Worshipers
Pastoral Prayer
Rev. Wendell Taylor
Call to Offering
Rev. Wendell Taylor
Scripture Reading
John 14:1-12 read by George Fetzer
1 "Do not let your hearts be troubled. Believe in God, believe also in me. 2 In my Father's house there are many dwelling places. If it were not so, would I have told you that I go to prepare a place for you?
3 And if I go and prepare a place for you, I will come again and will take you to myself, so that where I am, there you may be also. 4 And you know the way to the place where I am going."
5 Thomas said to him, "Lord, we do not know where you are going. How can we know the way?" 6 Jesus said to him, "I am the way, and the truth, and the life. No one comes to the Father except through me.
7 If you know me, you will know[d] my Father also. From now on you do know him and have seen him." 8 Philip said to him, "Lord, show us the Father, and we will be satisfied."
9 Jesus said to him, "Have I been with you all this time, Philip, and you still do not know me? Whoever has seen me has seen the Father. How can you say, 'Show us the Father'?
10 Do you not believe that I am in the Father and the Father is in me? The words that I say to you I do not speak on my own; but the Father who dwells in me does his works.
11 Believe me that I am in the Father and the Father is in me; but if you do not, then believe me because of the works themselves.
12 Very truly, I tell you, the one who believes in me will also do the works that I do and, in fact, will do greater works than these, because I am going to the Father.
Sunday Sermon
Troubled – Rev. Wendell Taylor
Closing Music
Jackie Harris-Stone
I Sing the Mighty Power of God (Hymnal #68) 
Our plan is to share the lyrics live as music is being played.
Go in Peace to Love and Serve the Lord!
For those able,
please remain on the computer or phone line
to partake in our Virtual Coffee Hour!