Zoom Platform Issues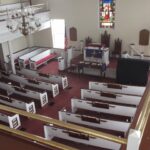 LIVE SERVICE CANCELED DUE TO WORLDWIDE ZOOM ISSUES.
SORRY FOR THE CONFUSION AND WE HOPE YOU ENJOY THE PLANNED SERVICE RECORDINGS FOR TODAY.
Deacon's Welcome
George Fetzer, Opening Deacon
Bell Ringing
CCB Virtual Bell Choir
Opening Music
Jackie-Harris Stone, Music Director
Call to Worship – Responsorial
Rev. Wendell Taylor
Rev. Taylor: The Lord has been our refuge and our keeper.
Worshipers: It is God who has kept us from falling and saved our lives.
Rev. Taylor: Let our thanks and praise resound throughout this place of worship.
Worshipers: Let our love and gratitude be shown in all that we do.
Rev. Taylor: Open your hearts and spirits to God this day.
Worshipers: Lord, be with us and place your hand of healing in our lives. AMEN.
Opening Prayer
Rev. Wendell Taylor
Lord of wondrous light and power,
we come to you this day to learn of your will for our lives.
Heal our wounds;
lift our spirits;
give us courage and confidence to boldly serve you in all that we do.  AMEN.
The Lord's Prayer
Our Father, who art in heaven,
hallowed be thy name;
thy kingdom come;
thy will be done;
on earth as it is in heaven.
Give us this day our daily bread.
And forgive us our trespasses,
as we forgive those who trespass against us.
And lead us not into temptation;
but deliver us from evil.
For thine is the kingdom,
the power and the glory,
for ever and ever. AMEN.
Prayer of Confession
Rev. Wendell Taylor & Worshipers
Let's all say our prayer of confession together:
Lord of mercy, there are so many times in our lives when we feel alone.
We wonder where you are. We cry out to you in our confusion, pain, and hurt.
And when you do not immediately grant the prayers of our cries, we begin to doubt that you even care or exist.
Stop us from going down this path of self-destruction. Help us look around and find the many ways in which you have blessed our lives.
Forgive us when we are so quick to doubt and so arrogant in our demands of your responses.
Give us a spirit of patience and willingness to be ready to hear your voice.
Strengthen us for the ministries of love and hope that you have placed before us; for we ask this in Jesus' Name. AMEN.
Words of Assurance
Rev. Wendell Taylor
Even in the midst of doubt and darkness,
the light of God is shining in you, on you, and through you.
Out of God's great love, you have been redeemed and made whole.
Rejoice, beloved of God! AMEN.
Joys and Concerns from the Congregation
Please Email Maryann is you have any for her weekly email
Pastoral Prayer
Rev. Wendell Taylor will do next week
Call to Offering
Rev. Wendell Taylor will do next week
Scripture Reading
John 14:15-21 read by George Fetzer
15 "If you love me, you will keep my commandments.
16 And I will ask the Father, and he will give you another Advocate, to be with you forever.
17 This is the Spirit of truth, whom the world cannot receive, because it neither sees him nor knows him. You know him, because he abides with you, and he will be in you.
18 "I will not leave you orphaned; I am coming to you.
19 In a little while the world will no longer see me, but you will see me; because I live, you also will live.
20 On that day you will know that I am in my Father, and you in me, and I in you.
21 They who have my commandments and keep them are those who love me; and those who love me will be loved by my Father, and I will love them and reveal myself to them."
Sunday Sermon
Orphans No More – Rev. Wendell Taylor
Closing Music
Jackie Harris-Stone
All Hail the Power of Jesus Name (Pilgrim Hymnal 195; v 1, 4 & 5)
Go in Peace to Love and Serve the Lord!