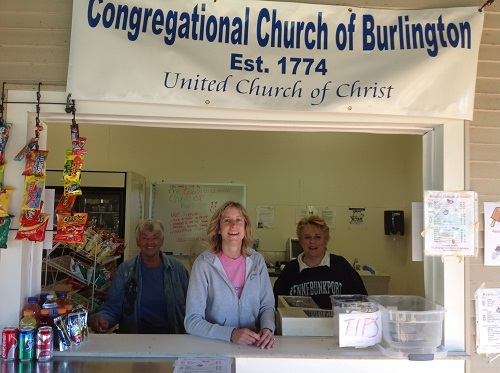 The Congregational Church of Burlington will once again be running the concession stand for the Fall 2015 Session.  Maryann Burns will once again be coordinating the stocking & scheduling, so please let her know when you can take a shift or two!
The stand will be open to the public at 8:30 am and the season begins September 12th and runs through October 24th.  If there are any cancellations, we could be open on October 31st.
Those who have volunteered their time in the past know it's easy work if we fill the Sign-up sheet.  This is a great way for teens to earn community volunteer hours and we could use help from 10:30 am to closing, so sleep in and come help your Church out!
Please volunteer for one or more hours, it's fun and the bonding and community awareness makes it worth the effort…not too mention it's is a good revenue generator for Fundraising!
Sign-up sheets can be found in the Chapel Room or you can contact Maryann directly.
Thanks you in advance for making this fundraiser a success!
PS – We respect your privacy, but if you can share your email and contact phone number that would help when the BJSA or Town of Burlington cancels games for any reason.  We will make every attempt to notify you prior to leaving for the stand, but sometimes the cancellation does not come out until last minute Saturday!  Again, thanks for making time in your busy schedule to help our Church missions!