Like so many churches and other social organizations, the Congregational Church of Burlington has been challenged to keep members connected and engaged while confronted with COVID over the last year. To maintain a connection with our youth at a time when we were unable to meet in-person, the Christian Education Committee coordinated service projects that families were able to participate in from the safety of their homes while making a positive impact on communities near and far.
In December, 15 youth from nine families made 20 no-sew blankets for clients of Agape House, a Christian based organization serving the homeless and those in need in Bristol, CT. The staff at the Agape House were so appreciative and said that blankets are a huge blessing and were perfectly timed for Christmas!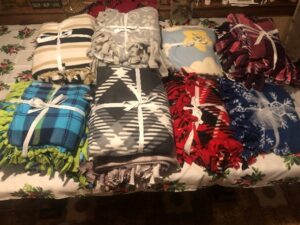 In February, the Christian Education Committee initiated fundraising efforts to support our second service project with Wine to Water, a North Carolina based organization that seeks to transform lives through the power of clean water. On March 26th, 14 of our youth and their families came together virtually, over Zoom to hear from a Wine to Water representative who shared the impact the filters have in providing clean water to those around the world who do not have the luxury of the clean water that we all take for granted. After a demonstration of how the Sawyer technology works, families were lead through assembly of the filters. Together, we built 32 water filters that will provide clean water to up to 320 people for 10 years!