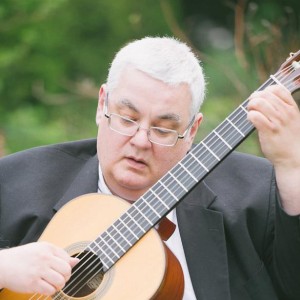 Join us on Sunday, May 4th at 3:00 pm ET for our Spring Music Series Concert and warmly welcome "Louis Romao", a Connecticut guitarist who is an active performer and teacher of classical, jazz and popular styles of guitar.
Appearing in the United States and Europe, he is named by the New Haven Advocate as one of Connecticut's ten most recognized guitar soloists two years in a row!
This performance is open to all in our Church and community, so spread the word. There is no admission and we only ask you consider a free-will donation.
Professional Bio
Since his New York City debut in March 1992, Mr. Romao's concerts continually draw the enthusiastic acclaim of audiences.  Appearances include the Farmington Valley Symphony Orchestra, the Cheshire Symphony Chamber Players, the Waterbury Symphony, and numerous small chamber groups.  As a featured soloist, his performances include Antonio Vivaldi's Concerto in D and Claude Bolling's Concerto for Classical Guitar and Jazz Piano.
In addition to being a gifted performer, Mr. Romao is a versatile composer.  He has composed Funk and Counterfunk for jazz band, music for March Tale, which was premiered at the Seven Angels Theater in Waterbury, and Variations on 'Két szál pünkösdrózsa' for solo guitar.  Mr. Romao's latest CD, The Wooden Music Box, features his performance of original solo guitar works.  He has published guitar transcriptions in the Connecticut Classical Guitar Society Newsletter, and for Soundboard – the publication for the Guitar Foundation of America.
Between 2000 and 2007, Mr. Romao was the music director of the Connecticut Classical Guitar Society Guitar Ensemble, which has performed in numerous venues in the Hartford area.  In a special event in November 2005 sponsored by the Connecticut Classical Guitar Society, Mr. Romao conducted a forty-piece guitar orchestra at the Hartford Convention Center.
Immediately after receiving his Masters degree at the Hartt School, Louis Romao began teaching guitar at colleges and private schools in Connecticut, and has taught all styles of guitar from the pure beginner to the aspiring professional.
He has given lecture demonstrations to high school and college music classes in Connecticut and New York, and has increased public awareness of the classical guitar as a result. In March 2005, Mr. Romao gave a lecture on the history of the classical guitar at the Liszt Academy of Music in Budapest, Hungary. As a jazz guitarist, Mr. Romao has performed with Louis Bellson, Lew Soloff, and Joe Beck.
Mr. Romao currently teaches in the Digital Arts department at Naugatuck Valley Community College.
Reviews
"Louis Romao is a poet who recites no rhymes yet speaks to us clearly through his wonderful wooden music box. He is an artist who paints the listener's blank canvas with colorful melodies and harmonic hues. In addition to his masterful playing, Romao is charmingly humble between songs. This combination of expertise and humility make for a very pleasurable evening of listening and made this particular show among my more memorable experiences with the music of Louis Romao." – Frank Critelli Songs from the Sofa
"Listening to this guy, you'd swear he has seven fingers on each hand. He plays solo guitar, some say classical, but he's certainly mastered a few different styles – really!" – New Haven Advocate
"…upbeat and driving solo acoustic guitar…" – CDBaby
"Romao is more than a classical guitarist" – Meriden Record Journal
Funding for this concert is made possible by: