WELCOME!! For over two hundred and thirty years the Congregational Church of Burlington has stood on its present location off of Route Four. There it has served as a spiritual home, and a community of faith, for people in and around the town of Burlington.
Our Church's original membership was comprised of largely rural, native New Englanders who were born and raised as Congregationalists. Like their ancestors before them who came over on the Mayflower seeking religious freedom and autonomy, these people desired to worship in the manner of their own choosing, following the dictates of their conscience. Their church provided them with a place to worship God, deepen their faith, and minister to others, while affording them a say and vote in all matters.
Our present membership is more reflective of the mobility and diversity of the twenty first century. Many of our members were born outside of Connecticut and are not life time Congregationalists. Instead, they come from many different states and from a variety of religious backgrounds, including Roman Catholic and other major Protestant denominations.
In the early nineteen sixties our church officially voted to become part of the United Church of Christ, an organization that includes four diverse denominations and is committed to the unity of all Christendom.
We welcome ALL people with the love and acceptance of Jesus our Christ. On Sunday, our sanctuary is full of families and individuals worshiping God. In addition to worship, we are committed to deepening our faith through study and to ministering to each other and those in need in our community, country and world.
Whether we gather for worship, study, serving others or simply to socialize, we call on God's Spirit to guide us, direct us, equip and empower us.
We would welcome you into our midst as together we learn what it means to be a Christian in our time.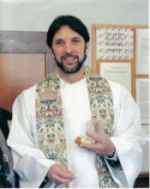 Reverend Taylor lives in Burlington. He raised his family of three daughters with his wife Deborah. All of his daughters, Caitlin, Kelsey & Leah, have graduated college and live in the Washington, D.C. area.

Reverend Taylor was born and raised in Washington, D.C., attended Salisbury State University undergrad (BA) and received his Masters of Divinity from Boston University School of Theology and post masters work at Lancaster Seminary, Pennsylvania. He has served as pastor in Rhode Island, Maryland, Pennsylvania, and Virginia churches prior to coming to Burlington in 2002.