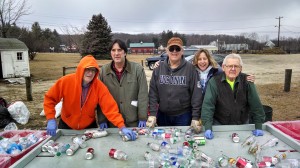 It is with great sadness that our Church writes this, but the decision of the Coca-Cola company and lack of support by key players has led to a very difficult outcome.
For those not aware, the Green Planet Redemption Center has been helping us coordinate the Can & Bottle drives since Day One. They provided a drop-off location that took ALL of Connecticut's 5-cent returnables, they provided the resources to feed the Envipco machines that tallied the counts by bar code and crushed/shredded the returns for recycling and they made our drives priority on their schedules.
Quite literally, we have grown from a "puny" drive to a mega-drive each quarter thanks to their help and our never wavering commitment to get this done.
Quite simply stated, the four Quarterly Can & Bottle Drives were our #1 Fundraising success both on the Gross and Net side of the equation because we had minimal expenses involved since everyone volunteered their time, their fuel, their equipment…we only had to pay for bags the past few years when the distributor started charging Green Planet…and they were not expensive.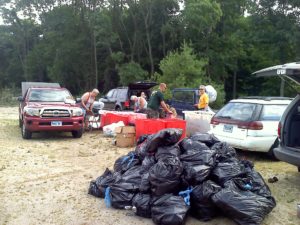 That's the history and, sadly, there will be no more chapters to add to this very successful story because as of February 11, 2017, Coca-Cola mandated to Green Planet and the other two Redemption Centers in the state they could no longer use the Envipco recycling machines for returns and had to hand-sort and store all the Coke products (including water and other lines of soda) for manual pickup.
Why? They say there were discrepancies in the counting but Envipco is the same company the grocery stores like Stop & Shop, Shop Rite, Big Y, etc. all use and they can still take the Coke returns. Ultimately, we are only left to guess as we are not naive that money has to be in play and in talking with people impacted, it becomes clear that the fees Coca-Cola incurs due to the Redemption law is in the millions of dollars.
By eliminating a Redemption Center that handles all returns it makes it greater probability people will simply throw these out or in the recycle bin since there is a good chance the grocery store machines are busted, jammed up with lines or simply won't take what they don't sell (for example, the Torrington Stop & Shop has a sign posted on their redemption room saying they will not take Yuengling Cans or anything we don't sell.) Oh, in case your wondering, the 5-cent return fee would go to the State of Connecticut since it was not paid back to the consumer.
Effective immediately, Green Planet had to stop doing fundraisers as Coke is about 30% of their volume and the effect of this billion dollar corporate decision will be the loss of 3 small business owners and the jobs they provided to their staff. I can say from coordinating with Green Planet that many of her staff stay for years, so this is a real impact on real people's lives.
The Coca-Cola Company decision makes it impossible for us to continue our Quarterly Can & Bottle Drives as we average about 26,000 returns over the 4 drives…in fact, we had just over 22,000 from our January Drive (you know, the "slow" one).
Our Church wants to thank all who:
Have coordinated the drives
Have volunteered each and every time no matter the weather conditions
Came with their donations
Helped us spread the word like the Burlington Community Fund, the Cub Scouts, the Boy Scouts and the Chamber of Commerce
Donated anonymously when they saw us freezing outside or working in the rain…you moved and motivated us!
Yes, this puts a damper on our ability to help our community, to shore up our finances and to keep Connecticut landfills and highways clean of these bottles.
We tried to reach out to our state representatives and senators, but it seems the CT Redemption law is a political hot potato since billion dollar companies like Coca-Cola want it gone and small non-profits and consumers want it to stay. Unfortunately, it seems the law had a loophole that allowed this unilateral decision.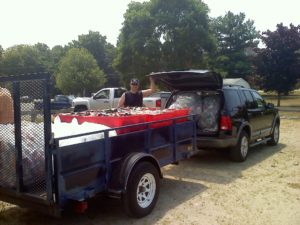 We are just a small-town church that survives because we work hard together to make it happen for our church and community. We don't have the bellowing voice needed to make Coca-Cola and our elected officials hear just how bad this decision is.
Like much in life, things that are unfair happen. All we can do now is regroup to figure out the next fundraiser that can replace this loss of funds for our church and to pray for the owners and staff of the Redemption Centers as they are forced to adapt or close, especially Lori at Green Planet who I visited with on February 10th.
I could see the loss of not making Coke change their decision in her eyes and the knowing that the end is a potential reality for her and her staff with this edict by Coca-Cola. All I could do was give her a hug and say we are all going to pray for her and her staff…and I walked out the door sad that this could happen in today's day and age.
Written by – Jerry Burns, Asst. Treasurer & Big Tex Owner
From the Envipco website, click on picture to see what they say about their Accounting methods as it relates to Coca-Cola and other clients…strange indeed.