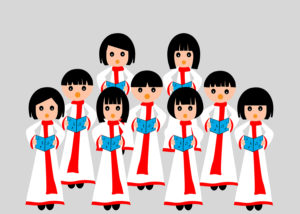 Dear Church Family,
I would like to issue you an invitation, in video form, to join us online for the CCB online choir!
The first video was created at our first online choir rehearsal and I think you will enjoy it! Thank you, Lynn and Jodi for your creative talents!
This second video is a sneak preview of what we will be doing at next Monday Night's rehearsal. Lorenz Music is sponsoring a "giant online choir" and some of our church members will be a part of it, hopefully you!
Please email me for details and materials.
I am able to send you practice parts with your part featured prominently so you can hear it and become familiar with it.
You can join on your own, you do not have to do it with us, but if you would like to have a hand in learning the parts we are gathering virtually at 7:30 pm this Monday, March 30th.
Due to a new phenomena called Zoom Bombing, please contact Jackie via her email link above for the information on how to join the virtual choir fun on Monday evening, either online or by phone.
I/we really hope to see you online!
As you can see from the invite video, we have a lot of fun which is a Blessing from God these days!
All the best,
Jackie Harris-Stone, Music Director
Congregational Church of Burlington
Invite Video
Join the CCB Virtual Choir
Monday's Sneak Preview Video
Be Still and Know (SAB) – Victor C. Johnson