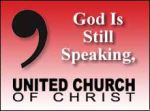 Just a reminder that the UCC is doing a Special Collection for this year's Neighbors in Need program during Offertory Collection on Sunday, October 6, 2013.
For those not aware, it is a special mission offering of the UCC that supports ministries of justice and compassion throughout the United States.
1/3 of the funds support the Council for American Indian Ministries and 2/3 of the offering is used by the UCC's Justice and Witness Ministries.
The Justice and Witness Ministries support a variety of justice initiatives, advocacy efforts and direct services projects all while:
Imagining a World Without
Discrimination and Oppression