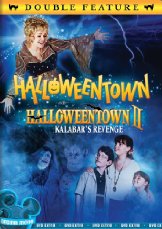 Join the Higley family for Halloweentown II at 7 pm.  You can get all the details in the Frank's Flix section of our recent Newsletter!
Parents, take advantage of the time to have a romantic dinner knowing your kid(s) are enjoying a fun movie, popcorn and friends from our Church.  While Sunday School is fun, Frank's Flix is a great way for the kids to bond even deeper as they grow up in our Christian Faith.
Keep the memory and wish of Frank Parmer alive but supporting this wonderful and family safe event!  See you tonight!