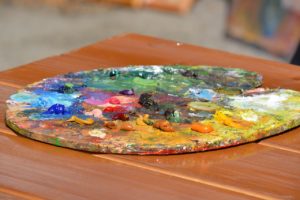 Let's Have an Artist and Artisan Fair!!
The really good thing about inspiration is that it leads to brainstorming ideas and that leads to a plan. I was talking to several church members (Laura C., Maryann B., Joanne R. and Tammy E.) and we now have a plan for an Art and Artisan Fair to help our church fundraising!
The date is Saturday, November 4th, inside the Burlington Town Hall. With little to no overhead, but with a lot of inspiration, I think this will be a very good, fun, annual event for us. Not a juried fair, but we'll select about 20-25 artists and artisans to participate.
We have an application and a fee structure we are circulating. Additionally, we've offered a free table each to the Boy Scouts and the Girl Scout's Service Unit.
That's not all as our Church will have its own bake sale and…wait for it…a house plant table!
Believe it or not, house plants are very trendy – especially when they are presented in a market ready manner (as my old 4-H leader would say).
HOW YOU CAN HELP
We need plants to sell. If you have house plants, start propagating them NOW. If you don't know how, check the web. Sometimes it's just a leaf in the dirt (Jade Plants) but it needs to be done now so we have at least 20 plants by Nov. 4th.
Go to tag sales and hunt for nice pots with drainage – terracotta is good.
Bake
We need someone to start saving the home sales page in the real estate section of the Hartford Courant – for the towns of Burlington, Harwinton, Farmington, Avon, and Canton.
Get several friends together at the beginning of October so we can send out the Fair Flyer to the people with new homes we found in #4. They are a desirable market because they want new decor which we'll have at the fair (paintings, photography).
Spread the Word! Share any way you can through your Social Media, word-of-mouth to friends & family, newspaper articles, etc.
Someone (or two or three) to organize a tea cup auction – each artist and artisan is asked to donate something for this, so you will not need to solicit things! All we need is someone to set it all up.
Create a flyer – a volunteer to setup a single-page flyer showing some pictures of the artist work (I have some).
Other details
We are seeking a few Sponsors for this event where we will have their name/business listed in all announcements about the Fair, on any promotional materials like the flyer and possibly in a small program booklet listing all the artists and artisans. More details coming in September.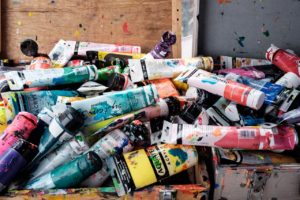 I have already contacted the Northwest Art Council for a Call for Artists, Gallery on The Green, posted on social media and directly contacted a few people I know who may be interested. Our first artisan is already on board: Linda Davidson of Quilibet Jewlery from Columbia, CT! She exhibits in gift shops of art museums (Hillstead, etc.)
You can help with this too! The application is on the table in the Chapel Room and can be downloaded by clicking here. If you prefer, just email me directly and I'll get you the application. But be timely as everyone should be signed up and on-board by the end of September.
This is not a labor-intensive event that is only comprised of three components:
Get artists and artisans on board
Get people to help with the specific tasks listed above
Get people to come
That's it! I hope you are inspired and have some ideas too! Youth could run games outdoors and raise money for a mission trip? Or something else?
Call me if you are inspired and want to try something too. This event can be as basic or extensive as you are comfortable. We can always build on more next year!
Contact Info: Ann Jurkiewicz, email [email protected]