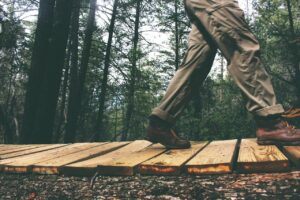 Dear friends,
It's hard to know what to do, or what we should be doing during the Coronavirus pandemic.
Do we dare even venture out of our houses to take care of necessities like buying groceries and getting gas?
Is it safe to be out in the open where other people are, or have been?
Should we go into work even if is only with a few people?
Each day after doing my devotions, writing in my journal and sharing my thoughts with you in this format, I take a walk either in Session Woods or on the bike path next to the Farmington River.
Sometimes I even see some of you there!
When I walk either in back of or next to people on the other side of the trail, I always try to make eye contact with them.
Some people look away, some say hello and some look through me, or over, me as if I was not even there. There is a look of disdain on the faces of some and a look of indifference on others. But on still others, there is a look of kindness, compassion and friendliness that says: "We all are human beings and we will get through this, at least in spirit."
Hopefully this pandemic will make us realize how much we need each other and how much we can do for each other… by just a simple look of kindness and a warm greeting.
Keep the faith my friends,
Rev. Wendell Taylor
Congregational Church of Burlington