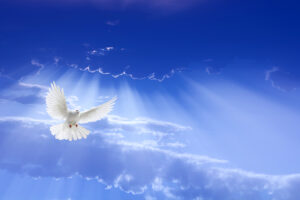 He is Risen!
Without any more words, our Christian Faith allows us to know exactly what that means.
Even with a pandemic crossing the globe and our lives seemingly distressed and at the very least disrupted, we can still take the time to worship collectively on this Easter Sunday 2020!
A promise was kept and all that was asked of us was to promise to live our lives as Jesus taught us.
The beauty of our Faith is we know we are human, we know we are fallible and we know we make mistakes that cause us and, sometimes, others pain…and God still loves us!
By sacrificing and resurrecting his only Son, we can always come back to Jesus and God; for their Light never goes dark if we are looking.
For all who worked on today's Easter Digital Service, we hope you can find joy and peace in the Words and Music selected for our Congregation and for our readers.
We are truly blessed because of those three words…He is Risen!
Hallelujah! Hallelujah! Christ's Love & Joy is Upon Our World!
Opening Hymn
Crown Him with Many Crowns
Liturgy
Prayer of Confession
Follow along with Rev. Taylor as he brings us the Palm Sunday Liturgy and our Prayer of Confession.
Second Hymn
Lord, I Lift Your Name On High
Easter Gospel Reading
John 20:1-18
Easter Offertory & Song
Above All
Easter Sunday Sermon – Rev. Taylor
It's Always Darkest Before the Dawn
Closing Hymn
Christ the Lord is Risen Today
Peace I leave with you,
my peace I give unto you:
not as the world giveth, give I unto you.
Let not your heart be troubled,
neither let it be afraid.
Go in Peace to Love and Serve the Lord!
~ John 14:27