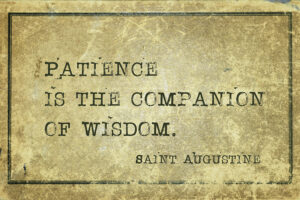 Patience.
Philosophers and theologians have long considered it one of the great virtues.
As Christians we are called on to practice it in order to be virtuous..
One definition and description of patience is as follows: "A state of forbearance, or restraint of delay or provocation, without becoming overwhelmed by annoyance or anger."
"Patience is a persons ability to wait something out, or endure something tedious without getting riled up. Having patience means you can remain calm, even when you have been waiting forever, or dealing with something painfully slow."
Patience is a virtue that is hard to practice, especially here in the Northeast, and during the Coronavirus Pandemic. Our society today is often based on instant gratification and availability.
So, waiting for something or not having it available to us is not easy for us to tolerate. We want to access TV channels fast, so we have remote control devices, and we want to access material on our computer or phones fast, so we have high speed internet. And again, we won't tolerate anything else.
But sometimes we lose control. Situations and circumstances control us and determine how we will live and even at what speed.
This has never been more true than during the Coronavirus Pandemic and its almost mandated isolation, social distancing and shut down of so much of our country and state.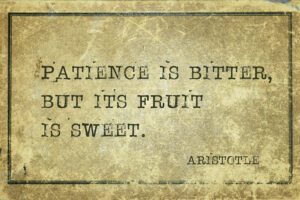 Our President, medical experts, state and local officials have told us what we need to do in order to stop the spread of the disease and be safe. Things like washing our hands, wearing gloves and masks and staying 6 feet apart. This has been going on now for over a month with a date for the resumption of normal activities still to be determined.
Through it all, we have been asked to have an inordinate amount of patience that would be trying even for a saint. At times like this, I find myself turning to the Psalms and the psalmist.
From personal experience, he knew what it felt like to wait for an answer from God that he hoped would come to end his suffering. So, he cried out to God in prayer:
"Answer me when I cry out, Oh God, how long shall I suffer?" (4)
"Give ear to my words, give heed to my groaning." (5)
"How long, Oh Lord, will you forget me forever." (13)
"For God alone my soul waits in silence." (62)
Then the Psalmist said:
"I waited patiently for the Lord, and he heard my cry."
In this Coronavirus Pandemic we too cry out to God: "Answer me!
How long must I wait to see my children and family?
How long must I wait to go back to work?
How long must I wait to travel?
How long must I wait to go to a restaurant, to watch a sporting event or go to the movies?
How long must I wait to go to church?
How long must I wait for human contact and touch?
In the meantime, we wait for out federal, state and local officials to tell us when "It is safe to go back out into the water" and resume our normal activities .
Patience is not easy and it tries a persons soul.
But maybe in our waiting, our inner turmoil can turn into peace that allows us to experience serenity.
Maybe in our waiting, we will learn to call on the Lord and eventually receive an answer to our prayers.
Then maybe, in the practice of our patience, we will become more virtuous.